Post by Dan on Jul 29, 2016 13:49:03 GMT
Misty
Misty Menthol Silver, Misty Blue, Misty Rose, Misty Menthol

There are exotic smokes are there are refined smokes, and then there is Misty; an extra refined 120 length cigarette for ladies.
Misty was introduced in the 1990s by R J Reynolds, offering 120 mm length cigarettes at a lower price than their competitors Virginia Slim and Capri. It strives to be the leading slims brand for women, working to attract women who would otherwise be attracted to brands such as Eve, or Max. Like Eve, Misty used feminine graphics on its packs to attract young women to their brand. The famous Rainbow brand lead to the slogan Find your Rainbow in 1999; representing an opportunity for women to find individuality and freedom, a common tactic in cigarette advertising targeted at executives, mothers and young people.
Like Virginia Slims, Misty hopes to attract women by the power of fashion. Many Misty print advertisements portray women in fashion-forward outfits with tons of accessories, including the long cigarette. The slogans made direct reference to physical appearance, such as Light N Sassy, Slim N Sassy. Both slogans tell women that they will appreciate the slenderness, if they smoke a slender cigarette. A slim, slender figure is often presented as more desirable in women's fashion magazines and by models in the fashion industry. Thus Misty perhaps provides a message that their brand will result in its smokers obtaining or maintaining a slim figure.
Misty Family of Variety
Misty Blue 100's
Misty Blue 120's
Misty Menthol Green 100's
Misty Menthol Green 120's
Misty Rose 100's
Misty Menthol Silver 100's
Review
Misty was one of the first names in the industry which I found interesting and appealing, and really wanted to try. In the UK we get Marlboro's and Camels but thats it, so I was never likely to get the chance. Many years have pass since that day, but this week I had the opportunity to smoke a 120 Misty Menthol for the first time. I went into this with low expectations, thinking the cigarette could never live up to my dreams. But I was wrong.
The long 120 length feels just right to enjoy a long satisfying smoke. The flavour is wonderful; strong enough to taste but not dominate, with a very light sweet essence and aroma which lingers and is wonderful. It takes a few puffs to appreciate a 120, and they can require quite a few cheek hollowed puffs and drags to gain a nice deep amount of smoke. But thats all part of the fun, and means you can smoke casually, or you can get deep into it. The tobacco is of the highest quality, and as a smoker from the UK I can attest to this, having tried many brands from all around the world(*). The after-taste is very mild and there is no overwhelming hit like many other American brands, which rely on Tar content to give the smoke a strong hit. The filter is also longer than regular smokes, which gives confidence to use the whole of it, and to try many different ways to draw. The silver Misty lettering is elegant, with a single silver band around the neck, which is quite charming.
After smoking a Misty 120 Menthol Cigarette, and enjoying lots of deep and chained draws, I was expecting to feel quite woozy and perhaps even a bit sick. But here the Misty out-shined itself, delivering a very warm, light, hazy feeling - lifting the top of the head like the sun on a sunny day, lifting the spirits with it. I can only describe the soft cloudy 'high' as pure luxury. My lungs really loved the feeling and didnt feel heavy, my nose really loved the aroma, and my mouth really loved the refined flavour - which melts away like cotton candy after a few drags. But it was the light Misty Haze of the after-glow which was the best part, which lasted for hours, and I awoke today still thinking and feeling wonderful after my experience with one cigarette. It made me want to write to RJ Reynolds and thank them personally - which I may still do.
(*) In my studies, cheap brands and imports from developing countries maybe 10%-30% as good as American cigs, some are quite harsh. European cigs are 40-50% as delicious as American brands, some dry out quickly and even the expensive ones taste dusty and old after a day of opening. UK cigs and US imports are 30-65% as good as American cigs, depending on if you buy the cheap rubbish or go for expensive full flavour brands. American cigs are generally 70-100% quality, and in my tests, it saddens me to say most people in the world are smoking pure crap compared to what comes from the mother-land, the good 'ol USA. We dont know what we are missing, but I certainly do. Newports, Virginia Slims, Marlboro, and now Misty are mind-blowingly good if you buy the real things from the US - just like Irish Stout tastes nothing like the original draught from Ireland, and the best hash never leaves Morocco. And Americans get to smoke these every day??!! YOU are so LUCKY!!
Conclusion:
If the smoker loves continually drawing on their cig, with only a little light headedness, which means they can draw and draw, then this is a superb brand to try. With a feeling afterwards which feels truly delightful, feminine and seductive. Only VS 120s have given a more amazing experience, but Misty Menthol 120s definitely appears in secondly place as my most memorable smoke of all time!
Rating: 9.5/10
(if you want to send me cigs to try and give my rating, PM me and I'll try them, many blessings to Brian for sending these)
1990s Design: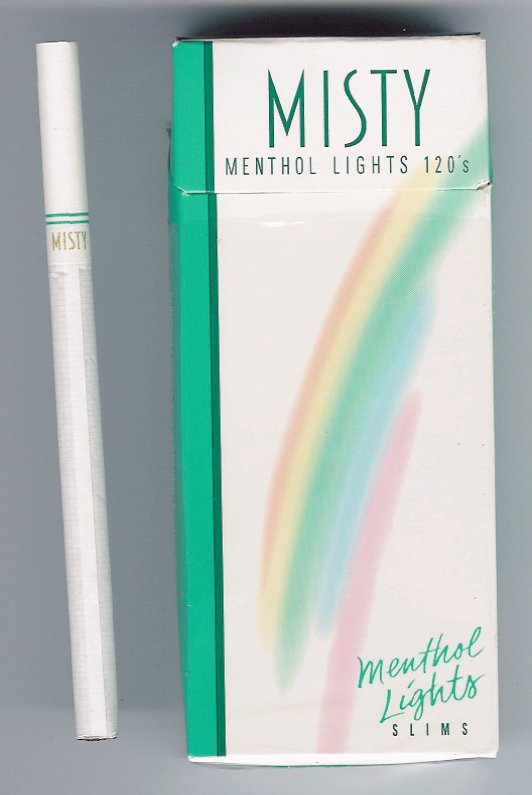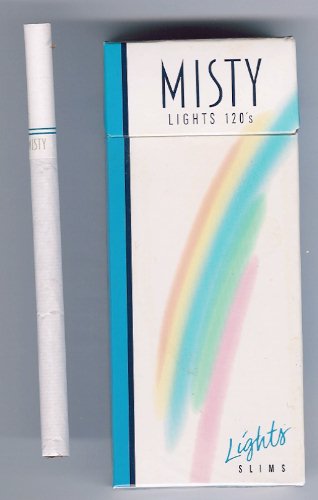 2000s Design: