Post by Dan on Aug 19, 2017 23:14:21 GMT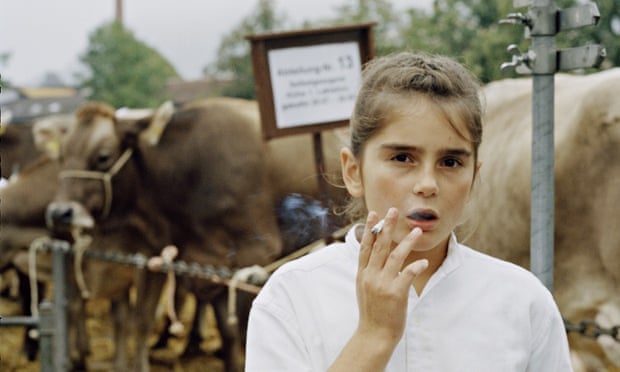 Girl smoking at Viehschau Cattle Show, Appenzell, Switzerland.

Until recently, there was no minimum legal smoking age in many countries around the world, and even today, if you are lucky, you may live in a country or state where it is perfectly to smoke at any age. In these countries, cigarette packs still say 'Please do not sell to minors', but it is not illegal to smoke cigarettes, only to SELL cigarettes to people under an age stated by law.
In Switzerland 2015, the Viehschau Cattle Show attracted the attention of a guy from the press, who happened to notice a local custom.
As soon as I started taking photographs, I noticed that many of the younger kids were passing around cigarettes, smoking one after another. They weren't misbehaving; their parents were around and they all seemed comfortable with it. Letting your children smoke at the cattle show is a long-standing custom, I learnt. Kids as young as six do it
A viewer comment to this article follows:
I grew up in this canton. Things are very much less complicated here then elsewhere on the planet. As for the media-hype with "scandalization" of kids with cigarettes: This "temporary freedom" can be interpreted as reward for a period of very hard work during the the summer period with the herd on the mountains.
While modern hysteria has forced many countries to adopt a minimum age for the purchase of cigarettes - often
between 16 and 21
years old, there are still many places in the world which have NO minimum age for smoking, and people are allowed to smoke at any age they like, as long as they didnt BUY them. These countries may surprise you. For example, most places which have a minimum purchase age dont have a minimum age for smoking. In France you cannot buy smoking materials unless you are 18 years old, but you CAN smoke at any age. Same goes for Greece, Denmark, Belgium and The Netherlands.
Countries where you can Smoke AND Buy Cigarettes at ANY AGE


Antigua and Barbuda
Belize
Falkland Islands
Gambia
Kosovo

Switzerland: Appenzell Innerrhoden (see news story above)

Switzerland: Geneva
Switzerland: Obwalden
Switzerland: Schwyz


Countries with NO legal Minimum Smoking Age


Most countries around the world have no minimum age. In Europe in 1995, the UK, Germany, Italy, Portugal and Spain had a minimum age, but mostly the rest didnt.
Europe 1995 Minimum Smoking Age (Grey = No minimum)

It would take too long to list all the countries, so to see the complete list, check this out:
Countries Smoking Age Laws Wiki
From this list you can see countries and states including: the UK, Texas, California, Utah, Wyoming, Virginia, Afghanistan, Japan, Mongolia, Philippines, Taiwan, Austria, Bosnia, Estonia, Germany, Finland, Ireland, Hungary and Portugal - have both a minimum smoking age and a minimum purchase age - virtually all the other countries have NO minimum smoking age.